Best book I read last year:
The Immortal Rules (Blood of Eden) - Julie Kagawa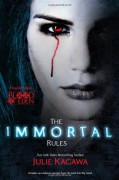 This book was simply amazing. A dark and brutal world both post-apocalyptic and dystopian, ruled by vampires and with the ever present threat of mutant zombie-vampires, a formidable female protagonist that you can easily believe capable of surviving in this dangerous world, and a story that will have you hooked from the beginning execution scene to the end.
From my review: "The writing was stellar, flawless. Kagawa effortlessly built this bleak and frightening world populated with terrifying creatures, a broken society, and a heroine with a strength built on years of pain and disappointment and yet a capacity to love that almost defies that world she grew up in."